Stamped Concrete Phoenix
Tips for choosing and installing stamped concrete in the Phoenix area
Phoenix is best known for its heat and spring training. However, anyone who has ever visited the area knows that it's also got a sea of tract homes built just before the recession. If you happen to live in one of these homes and are looking for a way to differentiate your property from those of your neighbors, stamped concrete is an excellent choice. Whether you go for a stamped driveway or upgrade your back patio, you'll love the difference stamped concrete makes in the appearance of your home.
Here is a list of concrete contractors in Phoenix.
Here are patterns and colors to choose from:
Stamped Concrete Patterns
Stamped Concrete Colors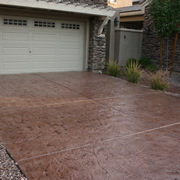 American Floor Coatings in Phoenix, AZ
Popular Stamped Concrete Patterns in Phoenix
There are many different stamped patterns to choose from, including ones that mimic stone, brick and even wood. In Phoenix the most common patterns are Arizona flagstone and seamless texture skins. Arizona flagstone is made to look like sandstone quarried directly out of Arizona. Choosing this pattern will give you an authentic look that is at home in the surroundings. Seamless texture skins impart a stone-like quality onto the surface of the concrete that has no joints or pattern. With seamless texture skins it is popular to add decorative sawcuts to create a pattern of large squares or diamonds.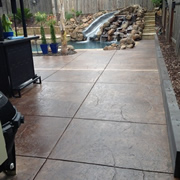 Xtreme Concrete Surfaces in Chandler, AZ
Color Options for Phoenix Stamped Concrete
Stamped concrete can be poured in nearly any color. However, in Phoenix it is popular to mimic the warm colors of the desert. Browns, tans and terra cottas are especially common in the area. Most stamping contractors will use a combination of colors to produce the final effect. If you are unsure on color choice, ask if they can make a mock-up so that you can see exactly what you'll be getting. With the extreme heat of Phoenix, it is best to steer clear of dark colors that will absorb the sunlight and radiate heat. Another suggestion is to make sure the concrete is sealed with a product that will keep the color from fading in the sun, think of this as sun glasses for your driveway or patio.
Stamped Concrete on Display Nearby
If you want to check out examples of stamped concrete in person before contacting any contractors, a good place to go is The Children's Museum of Phoenix. As part of the Concrete Décor Show in 2010, decorative concrete artisans came together to transform the interior and exterior of the museum. Stamped concrete was installed in the exterior courtyard using Bob Harris' Paladiano stamp. Additionally, stamped concrete was used outside the museum entrance, featuring an Arizona flagstone stamp. (See more of this project: Decorative Concrete Makes a Lasting Impression at the Children's Museum of Phoenix)