Stamped Concrete Cost
Stamped concrete costs depend upon a number of factors, including:
Prices for materials and labor in your local market
The detail and complexity of the job (borders, multiple patterns, etc).
The type and amount of colorants used
HOW MUCH IS STAMPED CONCRETE PER SQUARE FOOT?
Ordinary: $8 - $12 per square foot
Go from plain to pretty by enhancing concrete with one coloring method and one pattern.

Distinguished: $12 - $18 per square foot
Get more elaborate with effects incorporating contrasts in color or a contrasting border.

Extraordinary: $18 and up per square foot
Design the ultimate with an artistic blend of hand-applied coloring, detailed patterns including monograms or a compass, or multiple pattern combinations.
Find stamped concrete contractors near me and get quotes
HOW TO GET STAMPED CONCRETE ON A BUDGET
Try to use only one color and one pattern to keep stamped concrete at its most reasonable price. But you don't have to think of stamped concrete as boring to be budget-friendly. Consider changing the shape of your concrete to be curved, have control joints placed as curvilinear lines versus straight lines, or mix stamped concrete with fields of less-expensive plain concrete.
Five budget-friendly stamped concrete ideas
Stamped concrete can be exotic, over-the-top, intricate, and extremely eye-catching. You might think to do all that it also has to be expensive. Although installation can get pricey depending on how much work is involved to create the desired look, stamped concrete can be just as appealing when you have a small budget. Here are five budget-friendly ways to enjoy the benefits and appeal of stamped concrete.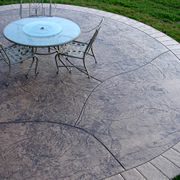 Capitalize on concrete's ability to be poured in any shape. Not satisfied with the square, utilitarian look? No amount of stamping will fix that. You can use stamped concrete in small areas, but really jazz up the space by changing the layout of the concrete. If you're pouring new concrete, consider incorporating curves. Make your walkway slightly curve. Go from a square patio to a half-circle. Shape your concrete to flow with the landscaping. It's a budget-friendly tip that won't add to the cost of your stamping ideas, but can add a tremendous amount in aesthetics. See these tips for design ideas for small backyard patios.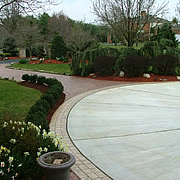 Add a border. Can't afford to stamp all the square footage of your concrete? Just stamp a border. A patterned border frames the concrete, giving it a finished look. "I don't like the look of a pattern running all the way off the edge," says Matt Zook of J&H Decorative Concrete in Uniontown, Ohio. Borders are an effective, inexpensive way to dress up plain concrete.
Keep color simple. One of the biggest factors that can add to your cost is coloring your concrete with multiple colors. Use the same color for your border or your fields and you can save quite a bit. Using color with a pattern will make a dramatic difference compared to plain, gray concrete. You don't have to do a lot to make an impact.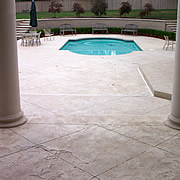 Sawcut and texture. Ask your concrete contractor if it's feasible to saw cut a pattern and then use a texture skin for pattern. Your contractor can create grooves in the concrete (often incorporating the control joints in the design), and then a texture skin can be applied to give a 3-dimensional look.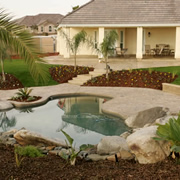 Expand the area you're stamping. It may seem counterintuitive, but you can add a lot of impact by continuing a stamped pattern from a patio or driveway to walkways and steps. Rather than stamp an entire driveway, consider just doing a border, but then continue that border to nearby walkways, paths, steps, and entryways. Get more for your money by stamping in multiple places and creating a holistic look, rather than just splurging on one, single area.
IS STAMPED CONCRETE MORE AFFORDABLE THAN OTHER PAVING MATERIALS?
Asphalt
Natural Stone
Precast Pavers
Stamped Concrete
Average Cost Per Square Foot
Depends on complexity of job
$2 - $2.50
$25 and up
$4 - $20
$8 - $20
WHAT MAKES STAMPED CONCRETE VALUABLE?
While the initial price of stamped concrete exceeds that for asphalt of plain concrete, it is much more competitive than installing natural stone, brick, or precast pavers. Stamped concrete is an aesthetic option for getting the look of real, more expensive materials for a fraction of the price.
The value of stamped concrete presents itself over and over again in all types of projects. From driveways, and patios to theme parks and malls, stamped concrete is chosen for its value improvements including reduced costs, an appealing final products, and easy maintenance. Along with the known durability and long-lasting feature of regular concrete, stamping adds a decorative touch making it a desirable and economical product for all.
Benefits of stamped concrete
Here are the main ways stamped concrete offers real benefits in terms of performance, cost savings, and aesthetics.
Reduced long-term maintenance and care.
Over time, other surface materials such as pavers can become loose or settle, resulting in tripping hazards. Stamped concrete's advantage is that it never needs resetting or replacing. It eliminates tripping hazards for parks, resorts, etc.
Less labor intensive than other surface materials.
Some installers find it more economical to pour concrete and apply a pattern than to haul and place individual paving stones by hand.
Increased longevity.
Your initial investment in stamped concrete is only part of the total equation. Concrete lasts longer than other materials, is durable in nearly every type of environment, and holds up better to traffic and wear.
Requires less maintenance.
Stamped concrete requires minimal maintenance than most other paving materials which can add up to big savings over the surface's lifetime. Read more about stamped concrete maintenance.
Increases resale value of property.
Stamped concrete adds instant curb appeal and aesthetic value to a property. You can maximize the return on your investment by choosing stamped concrete over plain concrete.
Compare stamped concrete to other paving materials and see first-hand how concrete stacks up to asphalt, natural stone, and precast pavers. You'll be impressed with how much stamped concrete has to offer in terms of availability of patterns and colors, longevity and performance, speed of installation, customization, and more.